Body Doubles Shapes
"Be an After"!

"She was the slave who, earlier, had been used by Yellow-Knives as, in effect, a lure girl, one used to distract or, say, entrap a warrior." --Blood Brothers of Gor, page 286
---
"Indeed, as soon as it became dark I would become suspect as a runaway slave. Slave girls, with the exception of coin girls, lure girls for taverns, and such, are generally not permitted to walk unaccompanied about the streets of a city after dark." --Kajira of Gor, page 355
Seemingly innocent yet deadly dangerous, the Gorean Lure Girl was often sent into the streets after dark to entice and entrap men. Our Lure Girl shape may LOOK sweet and blonde on the outside, but she is as cunning as she is gorgeous. Come try her on today if you think you have what it takes to be a Lure Girl!
On sale through tomorrow with your group tag!
Posted
on Friday, May 3, 2013 at 04:52PM
by
Body Doubles Divas
| Comments Off
We have two new looks for our Second Life men!
First up is "Charge" this new shape is designed for the great new skin release at Bad@zz. This look is my new fav in our men's department. Well dressed, urban but still manly...and just plain HOT!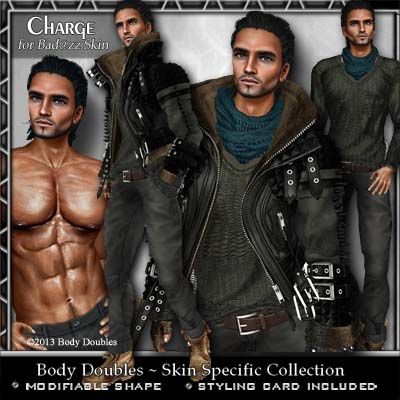 Next up we have Celebrity-Look-A-Like Taylor Laughtner! This guy has a great body! We have had Taylor in the shop before and he has been a popular look...but this one is even better! The new version uses the new Taylor skin from Redgrave...how can you go wrong with a tailor-made skin...so punny lol. The package comes with two looks...his regular hunky everyday self and then with styling for his alter ego character Jacob Black. For men with Twilight fan, team Jacob, girlfriends you just cant go wrong here lol.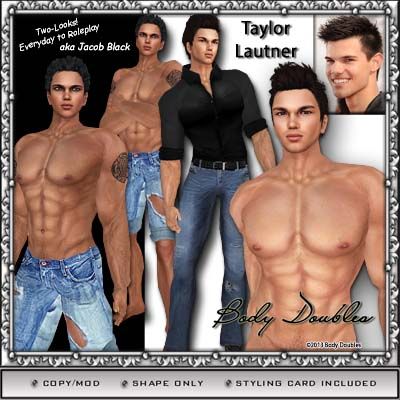 To see Charge, Taylor and all the rest of our great men's looks use this link to taxi: http://slurl.com/secondlife/Dark%20Oasis/217/46/33
You will also find a selection of our work on the Second Life Marketplace: https://marketplace.secondlife.com/stores/11330
Body Doubles~providing the highest quality shapes and styling since 2006
We make it FAST and EASY to have a polished new look! Every shape includes DETAILED styling instruction...even the landmarks to replicate the look featured from skin to shoes!
Posted
on Monday, April 15, 2013 at 11:19AM
by
Body Doubles Divas
| Comments Off
Body Doubles has introduced several new looks at special events this spring and now they are in the shop! If you haven't been in for a bit, come on oooover!
Some Glam for the ladies featuring two new Celebrity Look-A-Likes!
Posted
on Monday, April 15, 2013 at 10:53AM
by
Body Doubles Divas
| Comments Off
This beautiful songstress/actress/businesswoman/new mommy has really come into her own lately. No matter the size or shape or her body, she has a beautiful smile and positive outlook that can't be denied. She's our latest shape at Body Doubles and on sale today only with your group tag (by front door)
Posted
on Saturday, April 6, 2013 at 03:51PM
by
Body Doubles Divas
| Comments Off


"A companion chooses her own clients, that's guild law. But physical appearance doesn't matter so terribly,you look for a compatibility of spirit."
―Inara describing how she chooses her clients
Inara Serra, portrayed on Firefly by Morena Baccarin, is undoubtedly the MOST gorgeous galactic babe in the galaxy. I'm late to begin watching Firefly, but after seeing the uncomparable beauty that is Inara, I knew I had to make her shape for Body Doubles!
"On Sihnon, we started training at twelve, years of discipline and preparation before the physical act of pleasure was even mentioned. Control was the first lesson, and the last."- Inara explaining how much studying is involved with being a Companion.
Inara, born in the 25th century, is a Companion, (a high-society courtesan). In Alliance society, Companions are part of the social elite, often accompanying the wealthy and powerful. They have considerable ritual and ceremony surrounding their services, which appear to extend beyond sex to nurturing psychological and emotional well-being.
Our shape, inspired by Inara, features her training day dress from the movie Serenity and is a do-not-miss shape. Come by and take a look and get her while she's on sale (with your Body Doubles group tag).
Here she is! http://slurl.com/secondlife/Dark%20Oasis/173/17/2
Posted
on Friday, March 15, 2013 at 01:50PM
by
Body Doubles Divas
| Comments Off